IT Security Management
Solutions for managing IT security, ensuring compliance, and auditing user activity.
IT Compliance and Log Management
Selina ICT Offers IT Security Management In Iraq. Your organizations' IT infrastructure generates a huge amount of log data every day. These machine-generated logs contain vital information that provides insights and network security intelligence into user behaviors, network anomalies, system downtime, policy violations, internal threats, regulatory compliance, etc. However, the task of manually analyzing these event logs and syslogs without an automated log analyzer tool can be time-consuming and painful.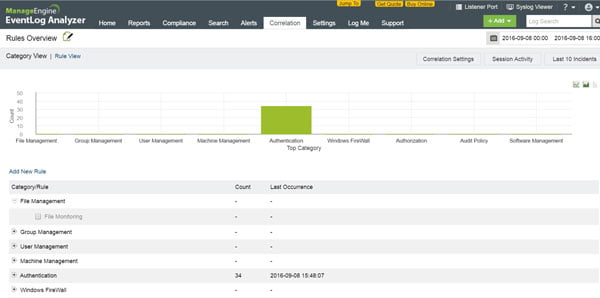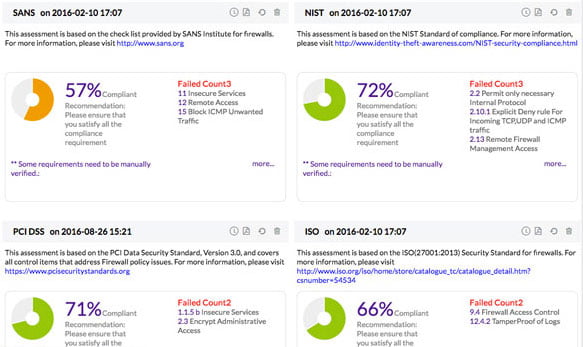 Firewall Security and Configuration Management
Gaining network activity insights and keeping abreast of firewall logs is a challenging task as the security tool generates a huge quantity of traffic logs. Introducing Firewall Analyzer, an agent less log analytics and configuration management software that helps network administrators to understand how bandwidth is being used in their network. Firewall Analyzer is vendor-agnostic and supports almost all open source and commercial network firewalls such as Check Point, Cisco, Juniper, Fortinet, Palo Alto, and more.
Privileged Password Management
Password Manager Pro is a secure vault for storing and managing shared sensitive information such as passwords, documents, and digital identities of enterprises. The benefits of deploying Password Manager Pro include:
Eliminating password fatigue and security lapses by deploying a secure, centralized vault for password storage and access
Improving IT productivity many times by automating frequent password changes required in critical systems
Providing preventive & detective security controls through approval workflows & real-time alerts on password access
Meeting security audits and regulatory compliance such as SOX, HIPAA, and PCI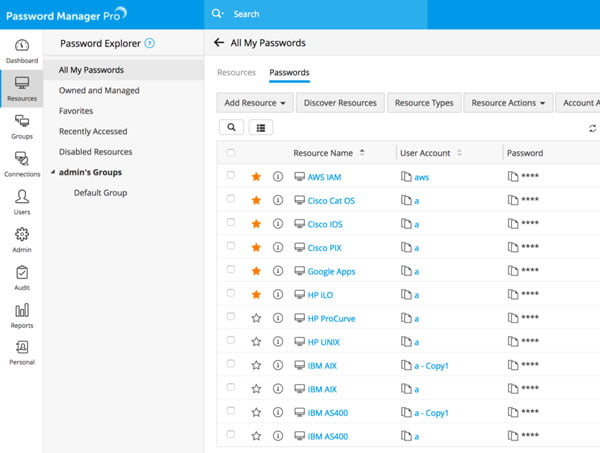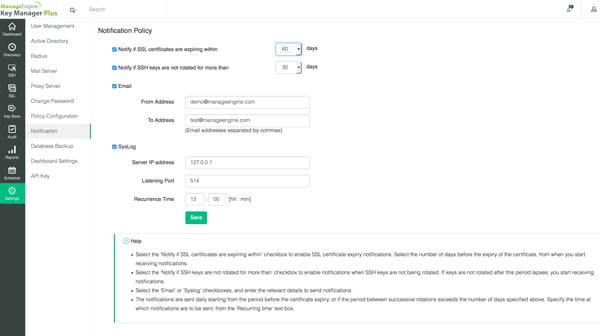 SSH Key and SSL Certificate Management
ManageEngine Key Manager Plus is a web-based key management solution that helps you consolidate, control, manage, monitor, and audit the entire life cycle of SSH (Secure Shell) keys and SSL (Secure Sockets Layer) certificates. It provides visibility into the SSH and SSL environments and helps administrators take total control of the keys to preempt breaches and compliance issues.
Active Directory Change Auditing and Reporting
In real-time, ensure critical resources in the network like the Domain Controllers are audited, monitored, and reported with the entire information on AD objects – Users, Groups, GPO, Computer, OU, DNS, AD Schema and Configuration changes with 200+ detailed event specific GUI reports and email alerts.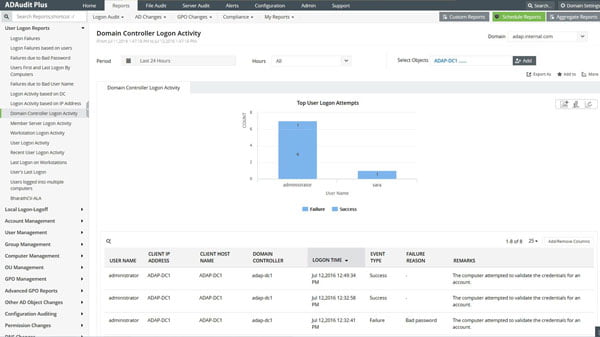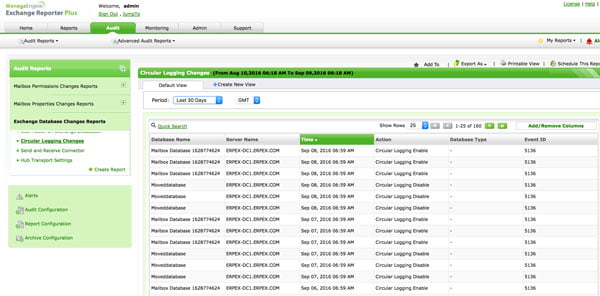 Exchange Server Change Audit and Reporting
Web-based, change auditing and reporting solution for MS Exchange environments.
Tracks and monitors enterprise ActiveSync infrastructure and the inventory of related smart devices.
Reports on Outlook Web Access usage, mailbox traffic, and mailbox growth.
Supports customized reports that use data filters, automatic scheduling, and multi-format report generation.
Provides audit feature that enables investigation of unauthorized mailbox logins and other critical changes.
Active Directory Management and Reporting
Web-based, Active Directory management tool with mobile management options via iPhone and Android apps.
Provides Single-console Active Directory and Exchange management.
Enables one-step user creation with Exchange, LCS/OCS, and Lync settings.
Supports template and CSV-based bulk user creation.
Includes 150+ out-of-the-box, actionable reports, including security, compliance (SOX/HIPAA), and distribution list reports.
Supports granular, role- and OU-based delegation of help desk activities.
Automates user life cycle management, AD cleanup, and other crucial tasks.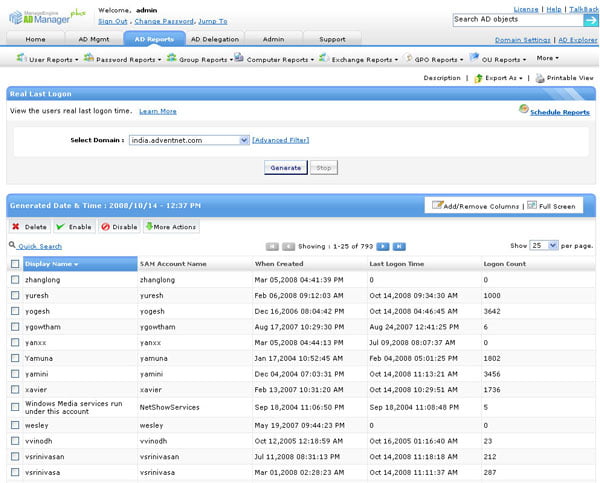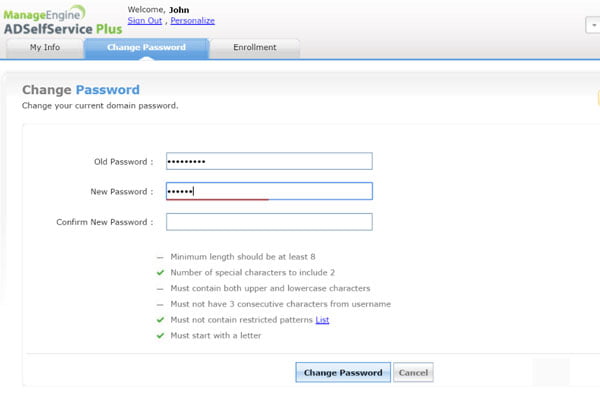 Active Directory Password Management
Simplifies password management with self-service for end-users while ensuring tight security using multi-factor authentication.
Implements granular password policies across on-premises Active Directory and cloud applications.
Automatically synchronizes passwords to securely unify identities across multiple platforms.
Provides seamless and secure access to cloud applications with Active Directory-based single sign-on.
Notifies users periodically via email, SMS, and push notifications to prevent password expiration.
Office 365 Security and Compliance
O365 Manager Plus is an extensive Office 365 reporting, management, and auditing solution that helps administrators manage their Office 365 setup effortlessly. The web-based, user-friendly interface allows you to manage Exchange Online, Azure Active Directory, Skype for Business, and OneDrive for Business all from one place.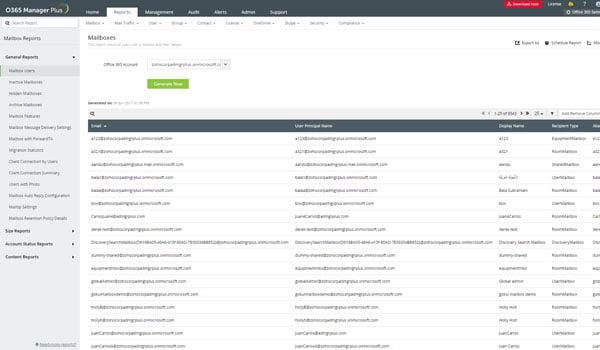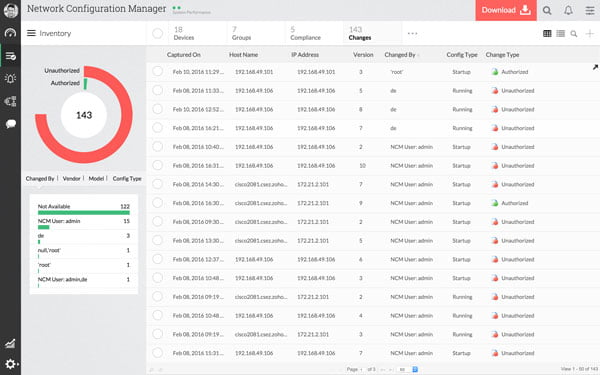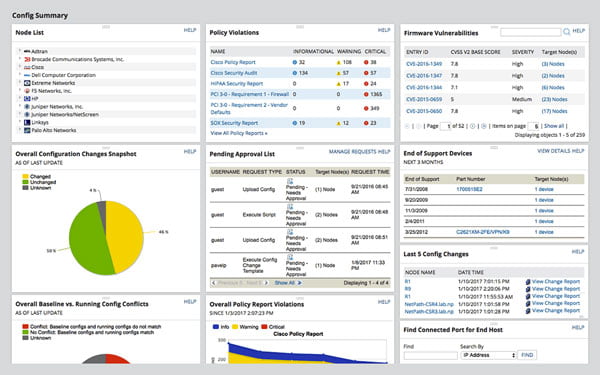 Network Configuration Management
Network Configuration Manager is a multi-vendor network change, configuration, and compliance management (NCCCM) solution for switches, routers, firewalls, and other network devices. NCM helps automate and take total control of the entire life cycle of device configuration management.
Integrated Desktop and Mobile Device Management
Desktop Central has integrated desktop and mobile device management software that helps in managing servers, laptops, desktops, smartphones, and tablets from a central location.
Automate your regular desktop management routines like installing patches, distributing software, managing your IT Assets, managing software licenses, monitoring software usage statistics, managing USB device usage, taking control of remote desktops, and more.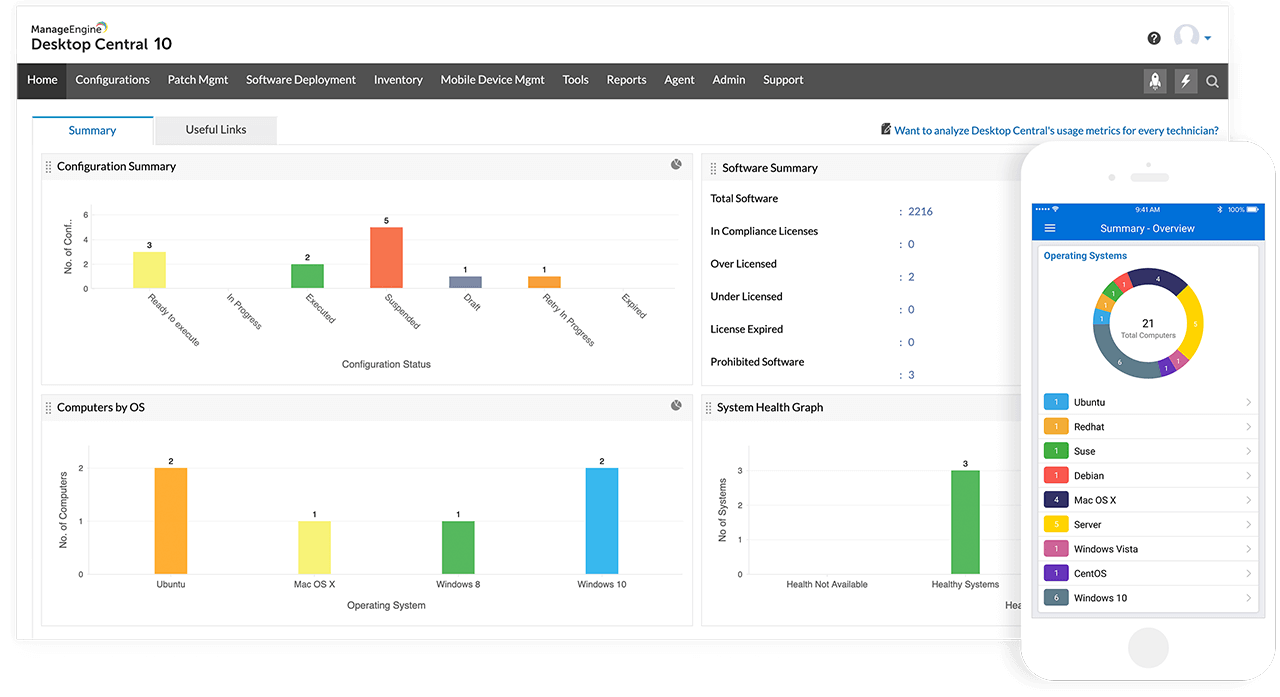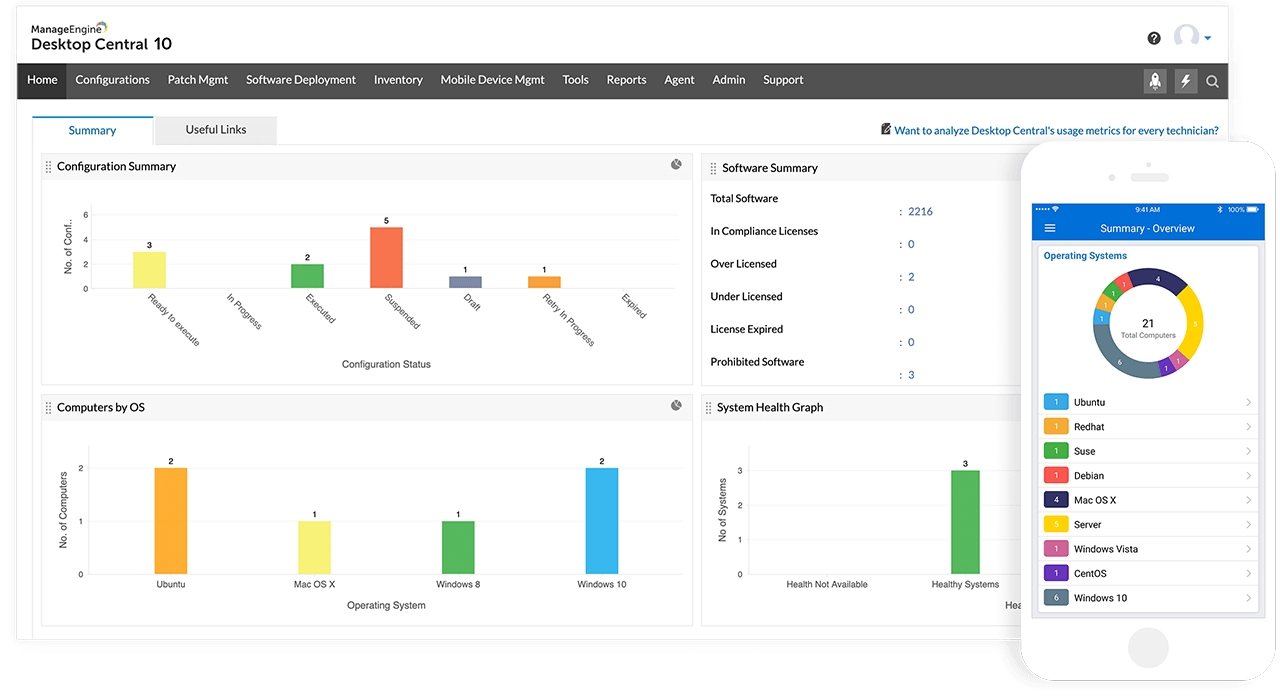 Manage third party patches with Microsoft SCCM
Microsoft SCCM has a great infrastructure to manage desktops and their applications. But, one of the limitations of SCCM is its inability to patch non-Microsoft applications. This is a source of inconvenience for IT administrators as they have to work with multiple patch management tools in order to update all business applications in the network, making this task highly time-consuming.
Cloud Security & Log Management
Cloud Security Plus combats these security concerns and protects your cloud.This IT Security Management tool gives complete visibility into both your AWS and Azure cloud infrastructures. The comprehensive reports, easy search mechanism, and customizable alert profiles enable you to track, analyze, and react to events happening in your cloud environments. Thus facilitating the smooth functioning of your business in a secure and protected cloud.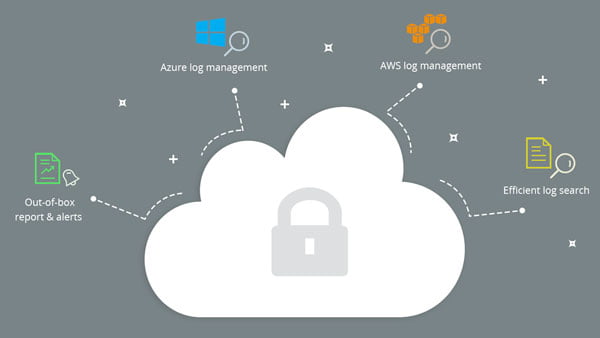 Patch Windows, Mac, Linux, and third-party
Patch computers in LAN, WAN, roaming users, and closed networks like DMZ.
Automate patching from detection to deployment.
Test and approve patches.
Deploy patches when applications are not in use.
Install patches during non-business hours.
Wake devices before deployment and reboot them after patches are installed.
Deny patches for specific groups and departments.
Audit patch deployment and run reports.
SIEM & Network Threat Mitigation
Comprehensive SIEM solution for the enterprise network.
Collects, analyzes, searches, reports, and archives logs from a central location.
Monitors Active Directory environment and tracks all domain events, including user, group, computer, GPO, and OU changes.
Audits Windows file servers, failover clusters, NetApp for file and folder changes, accesses, shares, and permissions.
Aids internal threat mitigation by providing the user context to all network activity.
Aids external threat mitigation by auditing network devices, database and application servers, vulnerability scanners, and threat intelligence solutions.
Cloud security tools to track all activity happening in public cloud platforms: Amazon Web Services (AWS) and Microsoft Azure.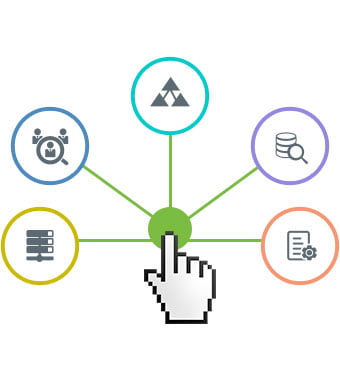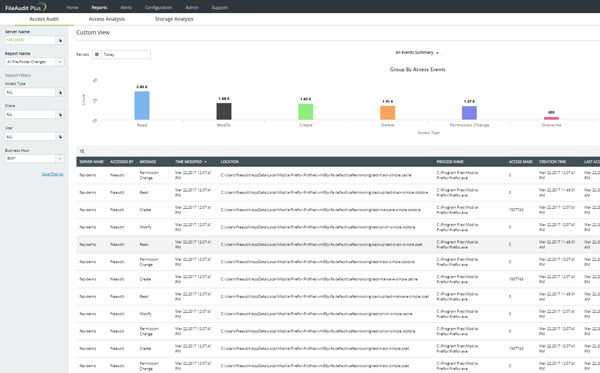 File Server Auditing & Reporting Tool
Web-based, real-time Windows file server access auditing and storage analysis tool that helps meet data security, information management, and compliance needs.
Track and analyze access to files and folders by drilling down into anomalies, recording access patterns, and examining share and NTFS permissions.
Optimize storage space by isolating old, stale, and non-business files, getting insights into disk space usage and viewing file and folder properties.
Actively respond to security breaches with instant email alerts. Detect and counter ransomware with mass access alerts and response automation.
Stay compliant with SOX, HIPAA, FISMA, PCI, GLBA, GDPR, and other regulatory mandates.